In today's rapidly evolving digital landscape, industries of all kinds are adapting to the power of online marketing to stay competitive and thrive. The roofing industry is no exception and below are the four roofing industry case studies.
Roofing companies now leverage digital marketing's potential for broader reach, greater brand visibility, and business growth, replacing reliance on traditional advertising and referrals. There are many strategies for boosting your roofing business's online presence.
In this blog post, we will delve into the inspiring journeys of four roofing companies that transformed their businesses through effective digital marketing strategies. From leveraging the power of inbound marketing to embracing content-driven campaigns, these case studies will reveal remarkable results.
Importance of Online Marketing for Roofing Companies
In the current age of technology and connectivity, customers actively seek information, reviews, and recommendations online before making any decisions.
Therefore, a well-executed digital marketing strategy is essential to capture the attention of potential clients and build trust in a competitive market. Below are some of the reasons why online marketing for roofing companies is important: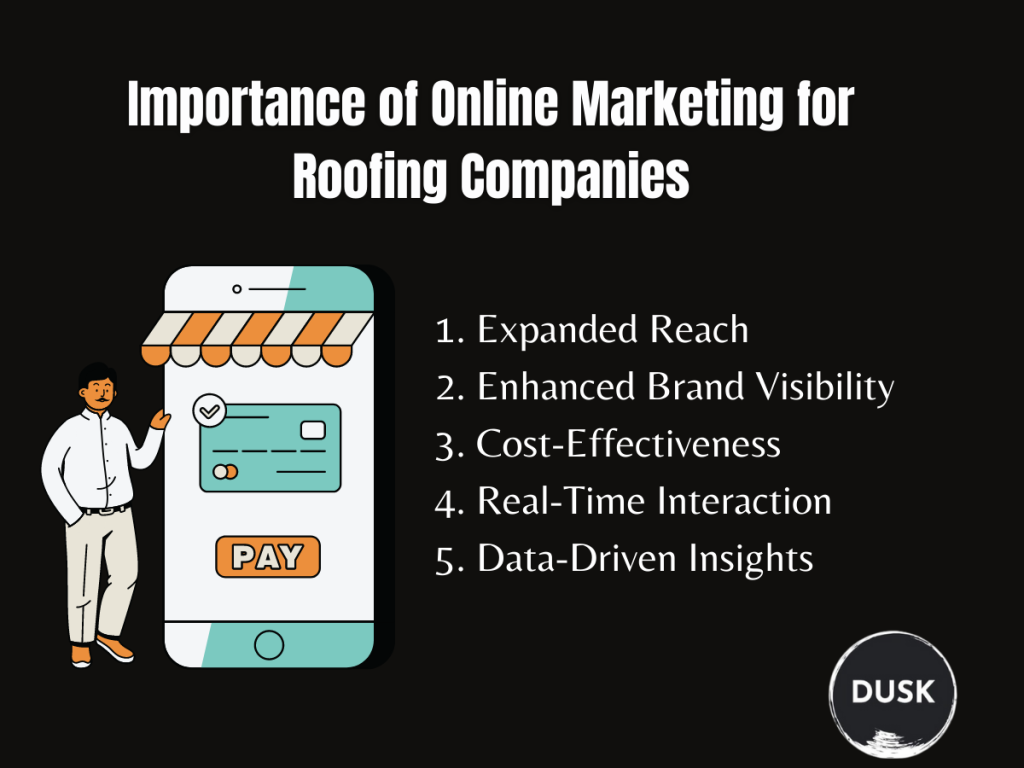 Expanded Reach: Online marketing offers roofing companies the ability to extend their reach far beyond their local community. Businesses can attract customers from neighboring towns, cities, and even across state lines by optimizing their online presence.
Enhanced Brand Visibility: A strong digital marketing campaign elevates a roofing company's brand visibility. Appearing on search engine results, social media platforms, and industry-specific directories increases the chances of being discovered by potential customers.
Cost-Effectiveness: Compared to traditional advertising methods, digital marketing provides cost-effective solutions. With targeted campaigns, roofing companies can focus on reaching the right audience, minimizing wastage, and maximizing returns on investment.
Real-Time Interaction: Roofing companies can engage with their audience in real time through social media and other online channels. This level of interaction allows businesses to respond to inquiries, address concerns, and provide valuable insights promptly, fostering a positive relationship with customers.
Data-Driven Insights: Digital marketing offers invaluable data and analytics, enabling roofing companies to understand customer behavior, preferences, and pain points. These insights empower them to refine their strategies for better results continually.
Case Study 1: Mikku and Sons Roofing
Mikku and Sons Roofing is a well-established family-based roofing company in Phoenix, Arizona, which has served the greater Phoenix area since 2001. While they had been relying on past referrals and personal selling for lead sources, they realized the need to establish a stronger online presence to achieve sustainable growth and attract more customers.
To enhance their project numbers and stand out in a competitive landscape, they sought the expertise of Dusk Digital, a digital marketing agency known for its branding, lead generation, and effective digital marketing services.
Marketing Goals: The primary marketing goal for Mikku and Sons Roofing was to enhance their online visibility and generate more leads through digital channels. They aimed to rank higher on Google for relevant keywords, capture buyer signals, and utilize Facebook advertising to reach their target audience.
Marketing Strategies:
Local SEO: The company optimized its website and online content to rank higher in local search results. This involved keyword research, creating localized content, and improving their Google My Business listing.
Website Redesign: A website redesign focused on improving user experience (UX) and user interface (UI). A more user-friendly website can lead to higher engagement and better conversions.
Geo-Landing Pages: To target specific locations, geo-landing pages were created. These pages were designed to appear in search results for specific local areas, further expanding their reach.
Local Services Ads: A local services ads account was set up to appear in the paid advertising section of Google searches, increasing potential customers' chances of being noticed.
Facebook Advertising: A well-crafted campaign was launched to reach their target audience on social media and generate more leads.
Benefits of the Campaign:
Improved Organic Rankings: With their local SEO efforts and optimized Google My Business listing, Mikku and Sons Roofing began showing up in the "3-pack" of organic results, boosting their visibility.
Increased Clicks: The combination of enhanced SEO and a user-friendly website led to a 10x increase in website clicks as more potential customers discovered their services online.
Higher Lead Generation: Integrating multiple marketing channels, including local services ads and Facebook advertising, resulted in a 4x increase in monthly leads, indicating the campaign's success in attracting potential customers.
Lessons/Key Takeaways:
Diversify Lead Sources: Relying solely on referrals and personal selling may limit growth. Opening multiple marketing channels allows businesses to reach a wider audience and attract more leads.
Local SEO Matters: Optimizing local SEO is crucial for location-based businesses like Mikku and Sons Roofing. It helps improve visibility in local searches and captures potential customers actively looking for services in their area.
User-Centric Website: A well-designed website that prioritizes user experience can significantly impact lead generation. A user-friendly interface can increase engagement and improve conversion rates.
Integrating Paid Advertising: Utilizing paid advertising platforms like Google Ads and Facebook Ads can further complement organic efforts and boost visibility.
Case Study 2: Wimberley Roofing
Wimberley Roofing, a roofing company located in Wimberley, TX, sought an innovative way to reach out to homeowners and promote their services. They partnered with PostcardMania to create an effective direct mail campaign to attract potential customers.
Marketing Strategies:
The roofing company partnered with PostcardMania to design and execute a direct mail marketing campaign. The key elements of their strategy included: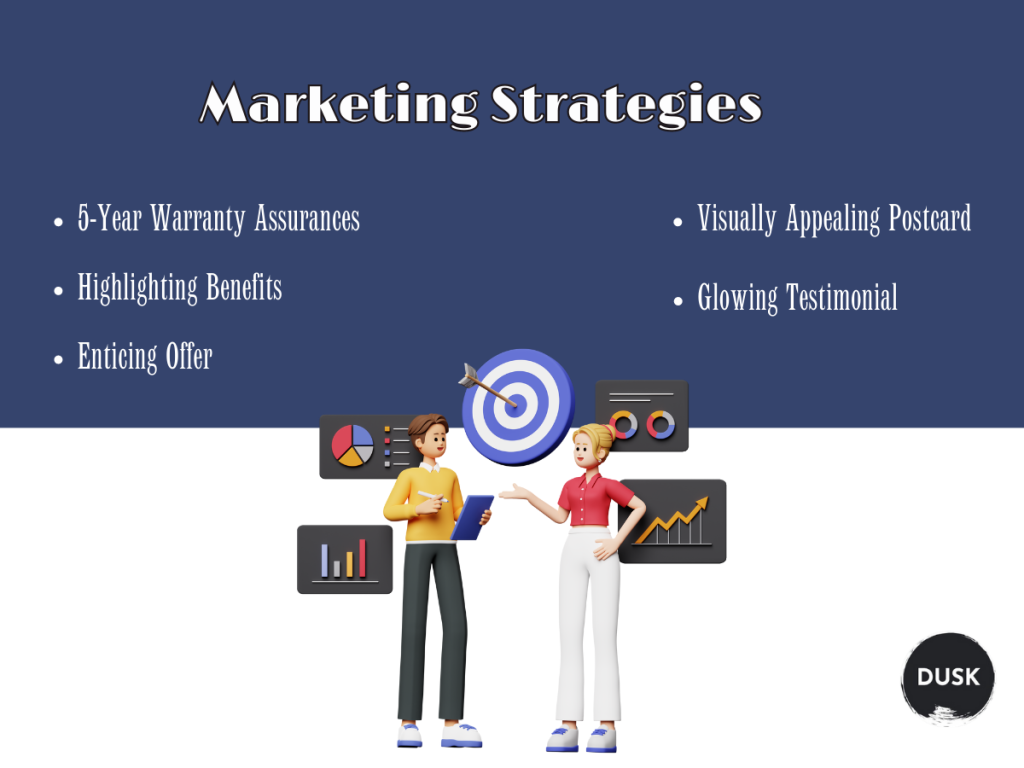 Visually Appealing Postcard: The postcard featured an eye-catching image of a home with a beautiful roof, immediately capturing recipients' attention and showcasing their roofing expertise.
Enticing Offer: Wimberley Roofing provided a 10% roof replacement discount to incentivize potential customers to consider their services, encouraging response and conversions.
Glowing Testimonial: Including a 5-star review from a satisfied client added credibility and trust, giving recipients confidence in the quality of the company's services.
Highlighting Benefits: A bulleted list of the advantages of choosing Wimberley Roofing showcased its value, addressing potential customer's pain points and needs.
5-Year Warranty Assurance: The mention of a 5-year warranty assured potential customers of the company's commitment to quality and provide added value to their services.
Benefits of the Campaign:
Targeted Audience: Using a consumer mailing list of homeowners in their local area, they focused on reaching the most relevant audience, those who would likely require roofing services.
Compelling Offer: The 10% roof replacement discount was a strong incentive, enticing potential customers to consider their services and increasing response rates.
Trust and Credibility: Including a glowing 5-star review built trust and credibility, which is crucial in establishing confidence among potential customers.
Showcase of Value: The bulleted list of benefits highlighted the advantages of choosing Wimberley Roofing, providing clear reasons for potential customers to select them over competitors.
Return on Investment (ROI): The campaign's success was evident in the significant increase in revenue, with a high ROI of 1,374% in the second campaign, making it a cost-effective marketing strategy.
Lessons/Key Takeaways:
Know Your Target Audience: Understanding the target audience and using refined mailing lists significantly increase the effectiveness of direct mail campaigns.
Compelling Offers and Testimonials: Including attractive discounts and positive reviews can entice potential customers and build trust in your services.
Consistency and Follow-up: Conducting multiple successful campaigns and maintaining a consistent marketing effort can increase revenue and improve ROI.
Case Study 3: Kayco Roofing
Kayco Roofing, a well-established local and family-owned company in North Florida, faced fierce competition in the highly demanding roofing market. To enhance their project numbers and stand out in a competitive landscape, they sought the expertise of Hite Digital, a digital marketing agency known for its branding, lead generation, and effective digital marketing services.
Marketing Strategies:
Web Design: Hite Digital revamped Kayco Roofing's website, ensuring it was mobile-friendly, visually appealing, and showcased their completed projects. The focus was creating a positive impression among potential customers and resonating with the local Florida audience.
SEO: A targeted SEO strategy was implemented, incorporating dedicated landing pages for specific roofing services, optimizing page speed, using relevant keywords, and providing valuable content to attract and engage potential customers.
PPC: Hite Digital utilized the pay-per-click model to direct targeted campaigns toward local geographies. The objective was to monitor and adjust the campaigns effectively to optimize lead generation and reduce ad spend.
Benefits of the Campaign
Enhanced Online Presence: The website's facelift and branding overhaul contributed to increased brand recognition and improved credibility, giving them a competitive edge.
Cost-Effective Lead Generation: Hite Digital's expertise in PPC allowed for a significant reduction in ad spend by 56% while simultaneously generating a 34% increase in conversions, making the campaign cost-effective.
Steady Stream of Organic Traffic: The SEO efforts and optimized website led to steady organic traffic, positioning Kayco Roofing for predictable lead generation and conversions over time.
Lessons/Key Takeaways:
Comprehensive Approach: Implementing a multi-channel digital marketing strategy allowed Kayco Roofing to effectively address various aspects of its marketing goals.
Expertise Matters: Partnering with a digital marketing agency like Hite Digital ensured that Kayco Roofing had access to specialized knowledge and skills, leading to successful outcomes.
Continuous Monitoring and Optimization: Ongoing monitoring and campaign adjustments were essential for maximizing lead generation, reducing costs, and maintaining a competitive edge.
Case Study 4: West Roofing Systems
West Roofing Systems is a commercial roofing contractor based in Cleveland, Ohio, with a 40-year history. Traditionally reliant on word-of-mouth referrals, they decided to revamp their marketing approach to stand out from competitors in the roofing industry.
Marketing Goals: The primary marketing goal for West Roofing Systems was to increase organic traffic to their website and generate high-quality leads. They wanted to position themselves as industry experts by creating informative content dedicated to educating clients about commercial roofing.
Marketing Strategies: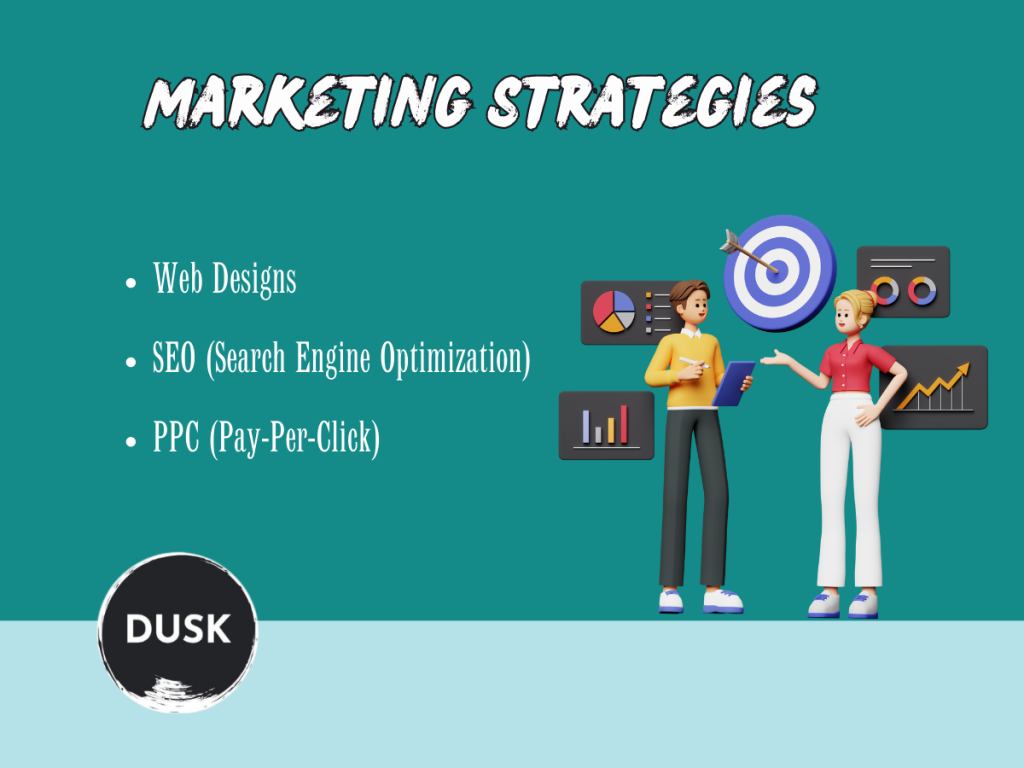 Web Design: To improve its online presence and user experience, West Roofing Systems revamped its website with a focus on educating clients about commercial roofing. The website was designed to be mobile-friendly, visually appealing, and easy to navigate.
SEO (Search Engine Optimization): West Roofing Systems created blog articles answering customers' most pressing questions about commercial roofing. The content was optimized with relevant keywords, meta descriptions, and tags to improve search engine rankings.
PPC (Pay-Per-Click): West Roofing Systems ran targeted search campaigns using broad search terms related to commercial roofing services. The goal was to increase visibility in search engine results and attract potential customers actively looking for roofing solutions.
Benefits of the Campaign:
Organic Traffic Growth: The website received around 200 monthly hits from organic search traffic before the inbound marketing strategy. Their organic traffic doubled within two months of implementing the new content-driven approach. It grew exponentially, reaching a 5,253% increase after two years.
Educational Content: By providing valuable and informative content, West Roofing Systems established themselves as experts in the industry, building trust with potential customers.
Improved Sales Strategy: The sales team incorporated the educational content into their sales process, using "assignment selling" to give prospects relevant content to read before appointments, leading to better-informed conversations.
Lessons/Key Takeaways:
Value of Content: Providing educational and informative content establishes trust, positioning the company as an industry authority and attracting potential customers.
Team Effort: Inbound marketing success requires buy-in and collaboration from the entire company, not just one individual or department.
Continuous Improvement: West Roofing Systems expanded its content strategy by repurposing content into videos, increasing engagement and brand presence.
Key Takeaway
These roofing companies achieved remarkable results through effective digital marketing strategies. Mikku and Sons Roofing increased website clicks and leads by diversifying lead sources and optimizing local SEO.
Wimberley Roofing's direct mail campaign yielded a high ROI by offering compelling discounts and showcasing testimonials. Kayco Roofing's comprehensive approach with expert support achieved cost-effective lead generation and enhanced online visibility. West Roofing Systems' content-driven strategy established industry authority, drove organic traffic growth, and improved sales strategies. Embracing digital marketing is important for all roofing companies to thrive and attract high-quality leads.