Are you a roofing contractor looking to boost your leads and sales? One effective tool you may not be doing is leveraging google my business. 
You may considerably boost your chances of attracting more clients and expanding your business by making use of the tools supplied by this platform and maximizing your internet presence.
A solid online presence is essential for the success of any organization in the modern digital era. More and more people are using search engines, such as Google, to locate local services, such as roofing contractors. You can dominate search results and gain an edge over the competition with Google My Business.
In this article, we will explore the various ways you can leverage Google My Business to maximize your roofing leads and sales.
What is Google My Business?
Google My Business (GMB) is a platform that improves a company's visibility in Google's various services, including Search, Maps, and Plus. Google provides this service for free, allowing any company to set up and maintain a profile page on the Google search engine.
Photos, addresses, phone numbers, business hours, online links, customer testimonials, and more are all part of this. Google My Business profiles are displayed in Google search results when users look for a specific company.
By maintaining a GMB profile, businesses can improve their rankings in local search results, boosting their number of leads and sales.
Pros and Cons of Leveraging Google My Business for Roofing Companies
There are a lot of upsides to using Google My Business (GMB) to promote a roofing company. Not only can it improve a company's presence in local search results, but it may also be used to reach new clients and boost revenue effectively.
Here are some of the benefits and drawbacks of using GMB for roofing businesses: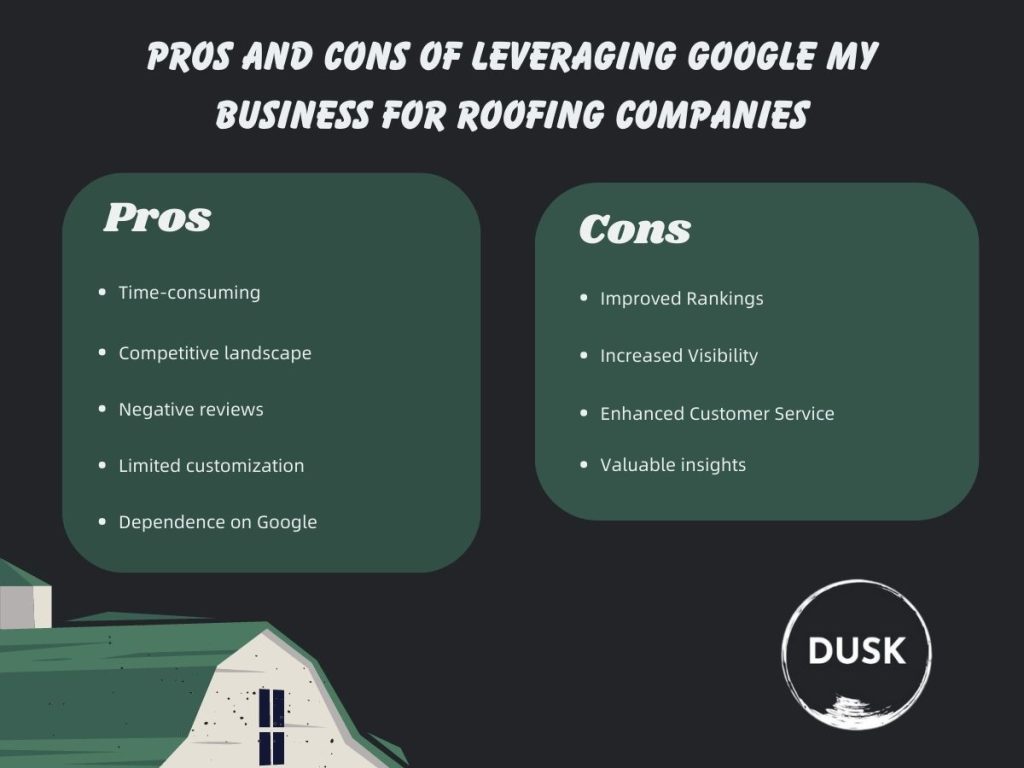 Pros:
Having an up-to-date GMB listing improves a company's visibility in local search results, which in turn raises the likelihood that potential customers will come across the company. Google has also started highlighting businesses that have recent content on their pages, including images, contact information, and customer reviews.
Using Google My Business, you can improve the visibility of your roofing company online and attract more clients. The confidence and trust of your clientele can be increased by keeping your Google My Business profile up-to-date and validated.
By maximizing your Google My Business page's visibility in local search results, you may encourage more people in your area to hire your roofing company.
Enhanced Customer Service:
GMB also provides a forum for businesses to reply to consumer reviews, which can enhance customer support and win over new clients. Timeliness in responding to negative feedback demonstrates the company's dedication to resolving customer issues, which can do wonders for the company's reputation.
Google My Business allows you to collect and analyze data on customer actions like searches and website visits, which may be used to improve your marketing campaigns.
Cons:
Time-consuming: Creating and maintaining a comprehensive Google My Business profile requires ongoing effort and time investment.
Competitive landscape: Depending on your location, the roofing industry may be highly competitive, meaning you'll need to put in extra effort to stand out among competitors on Google My Business.
Negative reviews: While customer reviews can be beneficial, negative reviews can harm your reputation. It's important to address and resolve any negative feedback promptly.
Limited customization: Google, My Business, offers limited customization options for your profile, potentially limiting your ability to showcase your unique brand identity.
Dependence on Google: Relying heavily on Google My Business means putting a significant portion of your online presence in Google's hands, which may come with risks and limitations beyond your control.
With this information, how can you leverage your GMB page to maximize the advantages?
Strategies for Leveraging Google My Business
Roofing businesses that want more leads and sales need to do more than just create a Google My Business (GMB) profile page. And to get the most out of a company's GMB profile, it is essential to optimize the page.
After creating its Google My Business profile, a roofing firm can take advantage of a variety of tactics to boost its online visibility and, by extension, its sales. Here are some of the most useful strategies to implement: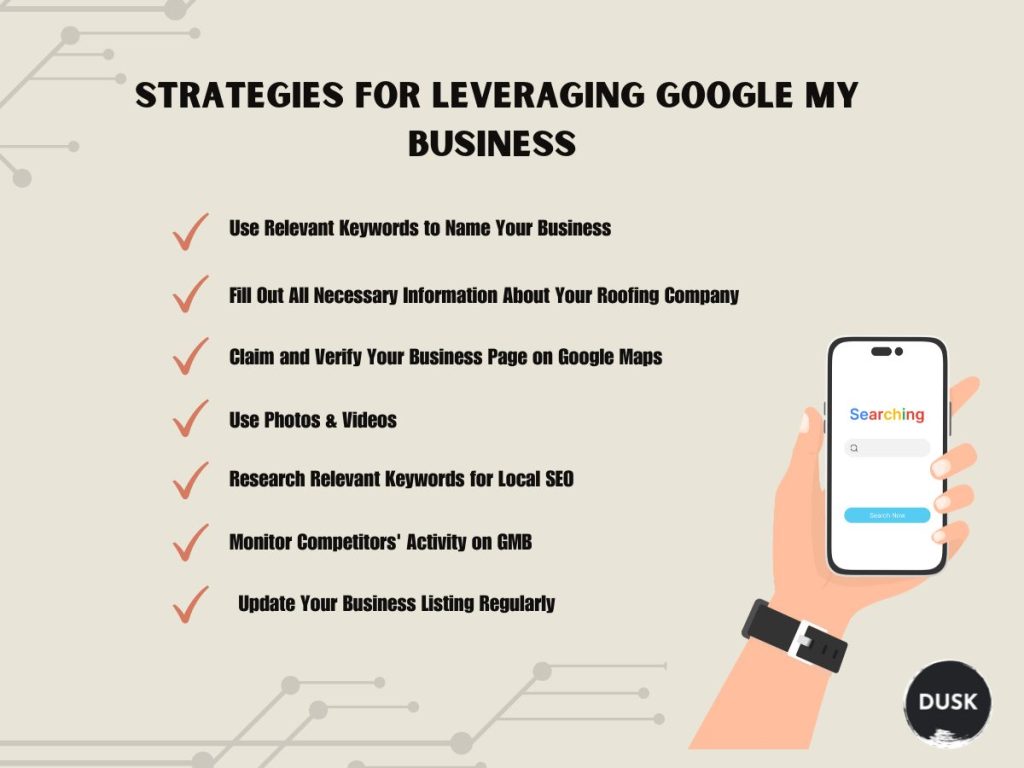 1. Use Relevant Keywords to Name Your Business
If you want to show up higher in local search results and get more consumers, you should use keywords in your Google My Business name. Think about the services and products you offer and how people would search for them to come up with a name that appropriately reflects what you sell.
Include the most important keywords (roof repair, roof restoration, roofing services, storm damage) in your company name, but don't make it too long; otherwise, it may get truncated in search engine results. You should also make sure that the descriptions and images on your profile page match the keywords in your business name.
2. Fill Out All Necessary Information About Your Roofing Company
If you want your Google My Business page for your roofing company to be as effective as possible, be sure to fill out all of the fields. Include things like service descriptions, hours of operation, and a way for customers to get in touch with you (phone number, email address, etc.).
Include a link to your website or Facebook page, as well as any other accounts you may have on other sites, such as Yelp or the Better Business Bureau. Doing so will improve your company's discoverability, leading to more leads and sales.
3. Claim and Verify Your Business Page on Google Maps
Claiming and authenticating your Google My Business page is a crucial step toward unlocking the full potential of the platform. Doing this will help verify your profile page's details and provide customer behavior insights.
To authenticate your GMB page, follow these steps:
Search for Your Business Listing:
The first step is to look for your company's Google Maps listing or to type "Google My Business" into the search bar. If your company has already been listed, you can access its profile by selecting it. If your business does not display, you may add it by selecting "Add Your Business" and following the instructions.
You may start the process of claiming and authenticating your business on Google My Business by clicking "Claim this business" once you've found it on Google Maps. After that, you'll be asked to fill out the standard business info like name, web address, phone number, and physical address.
The final step is to validate your company's existence with Google. A GMB page can be verified in a number of ways, including through the mail and via SMS text message.
4. Use Photos & Videos
You may highlight the high standard of your work and customer service by uploading photographs and videos to your GMB profile page. This will give potential consumers a taste of what it's like to deal with you before they even get in touch with you, which will help them make an educated decision.
Photos and videos can be used to showcase current promotions, past work, and customer endorsements. Search engine optimization (SEO) efforts can also be bolstered by publishing high-quality photographs that do justice to the quality of your organization.
Include images of your staff so potential clients can see who they'd be working with if they did business with you.
5. Research Relevant Keywords for Local SEO
Keyword research for local SEO is essential for increasing roofing leads and sales via Google My Business (GMB). Google's Keyword Planner and SEMRush are just two of the keyword research tools available to help you learn what people are typing into search engines to find businesses like yours.
If you run a roofing business in Huntsville, Alabama, optimizing your GMB profile with terms like "roofing services in Huntsville" and "best roofers near me" will help you be found online. Localizing your content by using native words and phrases can boost its performance in local search results.
6. Monitor Competitors' Activity on GMB
In the roofing industry, it's crucial always to be one step ahead of the competition. You can keep a step ahead of the competition by keeping a close eye on their Google My Business page. Check out their profile, ratings, and comments from past clients, as well as how they handle questions from new ones.
Knowing the tactics they're employing and how well they're doing will help you better counter them. You can use this data to improve your own marketing tactics, such as keyword research, customer service, and social media promotion of positive reviews.
7. Update Your Business Listing Regularly
Maintaining an active and useful GMB page requires regular updates. Depending on the nature of your business, i.e., storm restoration or flat roof repair, this may involve rewriting your company description or uploading new videos and pictures of your products and services.
If dynamic information such as phone number, address, services provided, website address, customer reviews, etc, change, you should be able to update them. Having this data up-to-date will boost a company's position in local search results and make it simpler for potential consumers to reach out.
Generating Positive Reviews on Google My Business
When it comes to getting the most out of Google My Business (GMB), positive ratings are invaluable. Ranking higher in local search results, gaining the trust of potential customers, and increasing sales are all possible thanks to reviews.
Increasing the number of five-star ratings requires first ensuring that your customers have a great experience. Customers are more likely to be satisfied and write positive evaluations if they are treated well by your team.
Get more five-star ratings on Google My Business by following these suggestions.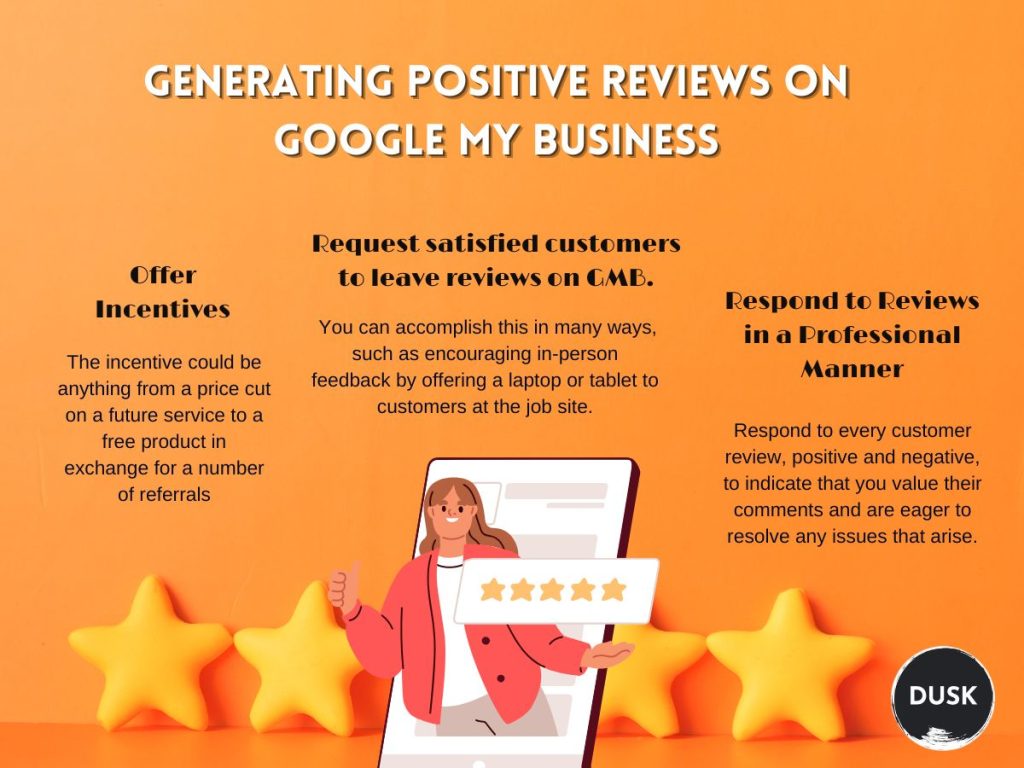 1. Offer Incentives
It helps to get more individuals to submit feedback, and it can be helpful to offer incentives in exchange for positive ratings. The incentive could be anything from a price cut on a future service to a free product in exchange for a number of referrals. Be honest about the incentive and spell out exactly what will be expected of the recipient.
Also, when offering incentives for reviews, be sure to follow Google's policies. Just make sure you're not paying them directly for their reviews and that you're actually delivering them something of worth.
2. Request satisfied customers to leave reviews on GMB.
Roofing companies can boost exposure and lead generation by asking satisfied customers to post positive service reviews. You can accomplish this in many ways, such as encouraging in-person feedback by offering a laptop or tablet to customers at the job site.
To encourage consumers to post reviews, you may also distribute fliers or business cards with a link to your GMB profile page. Sharing excellent customer reviews on your business accounts could help viewers trust you and check out your GMB profile.
3. Respond to Reviews in a Professional Manner
Engaging with clients on GMB is crucial to a roofing business' presence. Answering questions, responding to reviews, and offering valuable content can help create consumer trust and loyalty.
Regular customer engagement helps businesses stay top-of-mind when clients are ready to request their services. Respond to every customer review, positive and negative, to indicate that you value their comments and are eager to resolve any issues that arise.
It also builds trust with potential roofing customers who know they may contact you if they need help. No matter how legitimate the customer's complaint is, respond in a friendly and respectful manner and thank them for their feedback.
Strategies for Boosting Your Roofing Business Online Presence
In a nutshell, Google My Business (GMB) is a helpful tool for roofing firms to communicate with potential clients, create trust, and produce more leads and sales. Businesses may improve their Google presence by optimizing their GMB profile and producing favorable reviews.
How can you promote your firm online now that you have a GMB page? In the digital age, a strong online presence is crucial for every business. This is especially true for roofing companies, where competition is fierce, and consumers significantly rely on web research before getting services. Want to increase your roofing company's online presence? Here are the best ways to boost your roofing company's online presence.