Do you want to utilize Local SEo to dominate your business? Every business needs an effective online presence in an increasingly digital age to maintain and grow its market share. In the roofing industry, it's no different.
Local SEO (Search Engine Optimization) is a powerful tool to help you dominate your local market by increasing your online visibility. Here's a comprehensive guide on how to leverage local SEO to dominate your roofing market.
What is Local SEO?
Local SEO is a strategy that optimizes your online presence to attract more business from relevant local searches. These searches take place on Google and other search engines. It's an effective way to market your roofing business online, as it helps businesses promote their services to local customers when they're looking for them.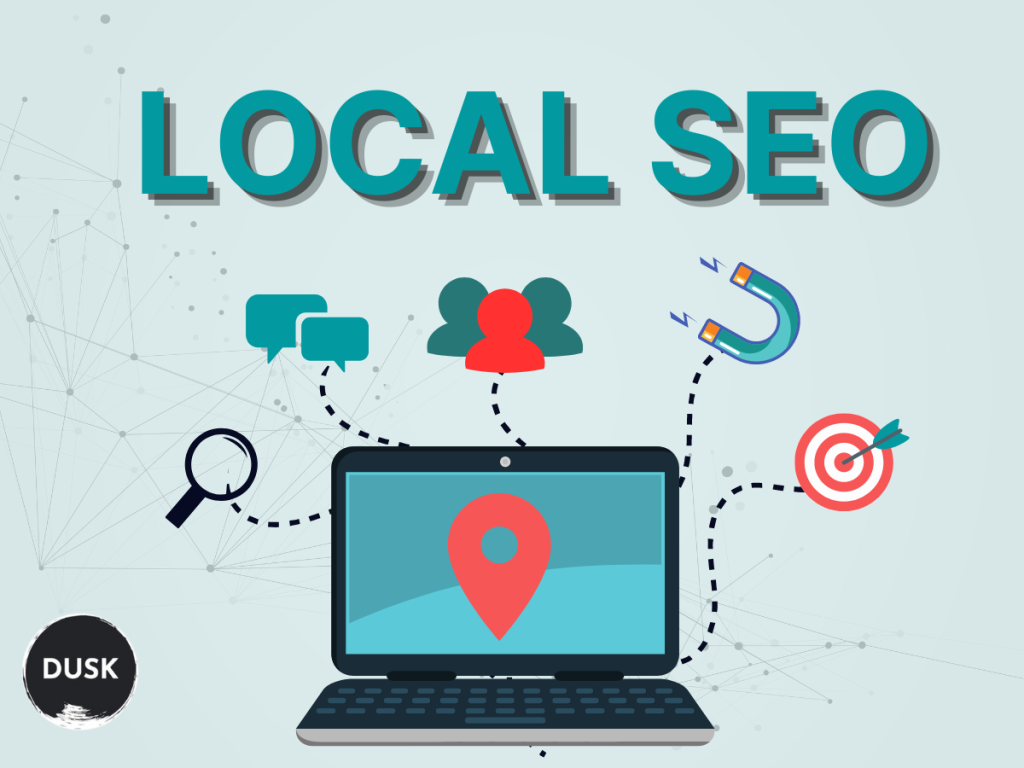 Local SEO is a strategy aimed at optimizing a website to rank higher in local search results on search engines. It is crucial for businesses to target customers in specific locations. Key aspects include:
Google My Business Optimization: Businesses can create a GMB listing with essential details to appear in Google Maps and local search results.
Local Citations: Listing businesses on online directories with consistent NAP information enhances the business's location credibility.
Local Reviews: Customer reviews on platforms like Google or Yelp can improve local search rankings.
Website Optimization: Implementing local keywords in meta tags, content, and URL and having a mobile-friendly website can improve visibility.
Local Link Building: Acquiring high-quality backlinks from local websites can boost local SEO.
Localized Content: Creating relevant local content can enhance local SEO.
This strategy is particularly beneficial for small businesses or businesses with physical locations, enhancing their visibility against more established competitors in local searches.
Why Local SEO is Important for Roofing Businesses
Local SEO is critical for roofing businesses due to the local nature of their services. As most individuals search for roofers within their geographical area, a robust local SEO strategy ensures the business appears in relevant search results, increasing the likelihood of attracting customers.
Local SEO is especially important for roofing businesses for several reasons:
Location-Specific Services: Roofing services are inherently local. People looking for a roofer are typically searching within a specific geographic area. Local SEO helps your business appear in search results for customers in your service area.
Increased Visibility: When a potential customer performs a local search, such as "roofing services near me" or "roofers in [city name]", effective local SEO practices ensure that your business appears in those search results, increasing the chance of them choosing your services.
Online Directories: Many people use online directories (like Yelp, Angie's List, HomeAdvisor, etc.) to find and compare local services. Local SEO involves making sure your business is listed on these directories, which can direct more potential customers to your business.
Reviews and Reputation: Local SEO also involves managing reviews on platforms like Google My Business. Positive reviews can significantly influence a potential customer's decision, and prompt responses to reviews (both positive and negative) can demonstrate excellent customer service.
Beat the Competition: The roofing industry can be quite competitive. Local SEO helps your business stand out in search results, making you more competitive by drawing customers away from other companies in your area.
Local Link Building: Local SEO encourages building links with local businesses and organizations. For example, a partnership with a local builder could involve mutual promotion and link sharing, which would boost your SEO efforts.
Cost-Effective Marketing: Compared to traditional marketing methods, local SEO can be a cost-effective way to reach local customers. It involves strategies that often require time and effort more than a large financial investment.
By targeting the specific geographical area where your roofing business operates, local SEO helps to attract more relevant leads and increase your chances of converting those leads into paying customers.
Steps to Dominate Your Roofing Market with Local SEO
1. Create a Google My Business Account
Creating a Google My Business account is the first step. This free tool from Google lets you list your business location on Google Maps and local search results. Be sure to provide comprehensive and accurate information about your business, including your address, opening hours, and services.
2. Optimize Your Website for Local SEO
Ensure your website is SEO-friendly. It should be fast, mobile-optimized, and have clear, easy navigation. Include your business name, address, and phone number on each page, and make sure your content is high-quality and relevant to your local customers.
3. Utilize Local Keywords
Identify and utilize local keywords in your content. These keywords should be relevant to your business and location. For instance, "roofing services in [your city]" or "best roofers in [your neighborhood]" are examples of local keywords.
4. Garner Positive Reviews
Encourage satisfied customers to leave positive reviews on your Google My Business page and other review platforms like Yelp. These reviews boost your reputation and improve your local search rankings. Responding to positive and negative reviews shows you value your customers and their feedback.
5. Build Local Citations
Citations refer to online mentions of your business. They usually take the form of local listings in directories like Yellow Pages, Yelp, or industry-specific directories. Ensure that your business information is consistent across all platforms.
6. Create Local Content
Develop content that speaks to your local audience. This can be through blog posts about local events, news, or even local roofing issues. This not only boosts your local SEO but also establishes you as an authority in your field
7. Leverage Social Media
Use social media platforms to engage with your local audience. Regularly posting updates and useful information can help you connect with potential customers and increase local visibility.
Tracking Your Local SEO Efforts
Finally, monitoring your local SEO efforts is important to understand what's working and what's not. Use tools like Google Analytics to track your website's traffic and Google Search Console to understand how people use your site. Regularly checking and responding to reviews on your Google My Business page is also a good practice.
In conclusion, local SEO is a powerful tool for any roofing business looking to dominate their local market. You can increase your visibility and attract more customers by creating a strong online presence, optimizing your website and content for local search, and engaging with your local community.