Creating an Effective Roofing Services Landing Page for Maximum Conversions is crucial. There's more to landing pages than an odd assortment of forms and buttons. A properly made landing page for a roofing firm will have persuasive content and an appealing and conversion-focused design.
Converting site traffic into leads is the first step in developing a relationship between a roofing business and potential customers. The roofing industry is highly competitive, so sending all visitors straight to the homepage is a certain way to give your competitors a step in terms of leads and sales.
What exactly is a landing page?
Simply put, a landing page is the page a visitor goes on after clicking a link. Of course, the most popular landing page is your homepage, but many other kinds of landing pages serve different purposes.
A landing page is a web page that is designed to convert visitors into leads through a single call to action or offer, as opposed to the several aims of other web pages. For this reason, landing pages are widely regarded as the optimal strategy for maximizing the ROI of roofing-specific PPC advertisements while simultaneously keeping acquisition costs to a minimum.
A landing page's primary objective is to attract and engage visitors to encourage them to do the required action. This could be anything from filling out a contact form, purchasing something, or signing up for a newsletter.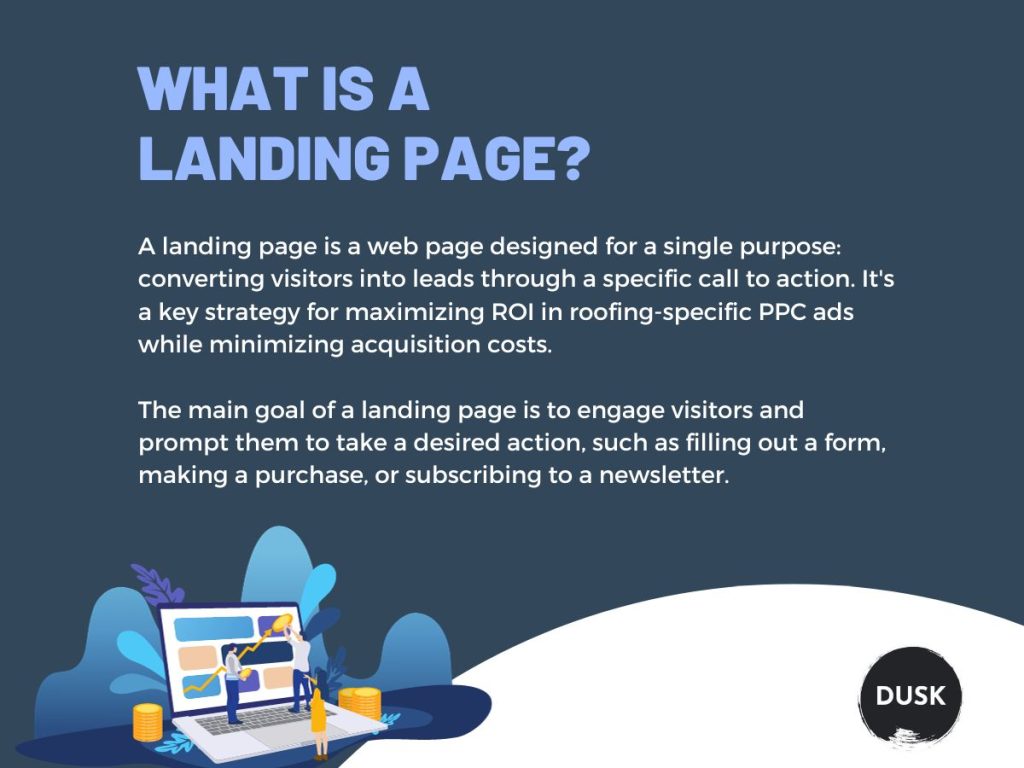 Why Should Your Roofing Website have a well-designed Landing Page?
Since a homepage serves as little more than a brochure for your business, it is not the best place to direct visitors. Landing pages are ideal for services that go right to the point, whereas the homepage acts like a front door by providing broad information about the company and the services.
It Increases Your Roofing Leads
Potential customers are drawn to your adverts because they are curious about what you have to offer. Those potential customers will go elsewhere if they come on an ineffective landing page.
So, let's say a prospect types "Roof replacement near me" into Google and sees numerous results; they then choose one of the ads displayed. However, the link clicked takes them to a roofing website that doesn't address the topic of roof replacement at all.
How would they react? They'll quickly navigate away from this page and to one that describes the services. Many prospective customers will go elsewhere if your roofing company doesn't have a well-designed landing page.
Google Quickly Indexes A Well-Designed Roofing Landing Page
Having dedicated landing pages for each of your roofing offerings is a great way to boost your brand's online presence via the use of informative and engaging content. This boosts your roofing business's visibility in search engines.
Site quality can be improved with the use of properly optimized landing pages for roofing. Getting Google to recognize your roofing SEO efforts is not an instantaneous process.
Contrary to paid search advertising initiatives, however, the results are reliable at a lower price. You can save a lot of money because you won't need to invest in costly advertising campaigns to boost your roofing company's profile.
Strategies for Creating an Effective Landing Page
The human attention span is notoriously short since it fluctuates based on the person's current interests. When prospective clients click on your link, you want them to take the action you want them to take as soon as possible.
How do you make sure that people stay on your landing pages? Here are eight guidelines to help you design a successful landing page.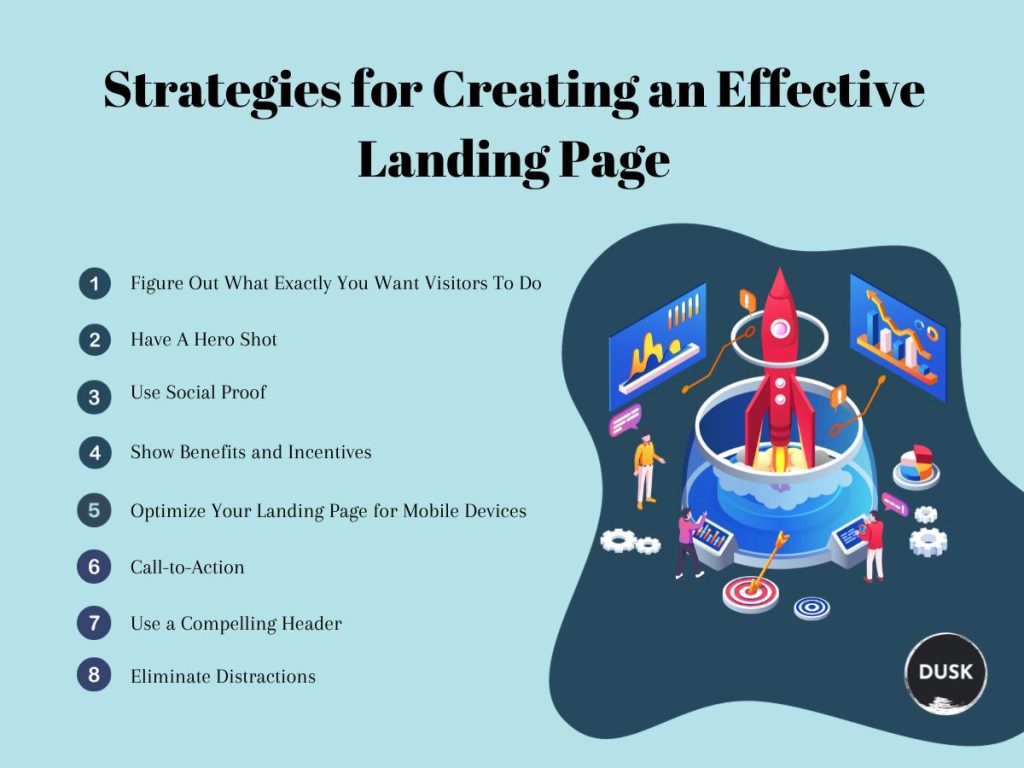 1. Figure Out What Exactly You Want Visitors To Do
It is in your best interest to have site visitors submit a form, call, or make an appointment to see your roofing business. It's really that easy, right?
Think about the one action you want the visitor to take before designing your landing page. Don't get too carried away with fluff; just make sure the reader knows what they're getting and how they're getting it.
The purpose of your landing page could be anything from:
"I'm trying to get more people to use our company for roof repairs."
"I'm trying to get the word out about this new service I'm providing."
"I'd like to show folks all the many kinds of roofing materials we have."
Based on these objectives, design a landing page that supports your company's long-term objectives.
2. Have A Hero Shot
Hero shots are images that showcase the benefits, results, and outcomes that clients have experienced when working with your company in the past and can expect in the future. You might just show a picture of a good roof you built in the past to get your point across.
You need something that looks really fantastic to get the attention of the visitor, so make sure it's clean, crisp, and gorgeous rather than seeming like gritty pixels. You wouldn't believe how much more quickly the subject can be communicated with pictures!
Since visitors to your landing page probably won't stick around to read a thousand words, every picture you include is invaluable. If you can't decide between several excellent shots, try them all out and see which one you like most.
Landing pages are fantastic since they can be modified and used again and again for various projects.
3. Use Social Proof
Most individuals today use social media to discover new service providers and verify that the ones they've already tried are top-notch. How do I know I can trust you to provide the service you've promised and that you'll do so in a way that meets my needs?
If you want others to know how satisfied your customers were with the work you did for them, upload their testimonials, reviews, and star ratings and put them front and center. Get the best reviews you can find and feature them prominently on your landing page by pulling them from Google My Business, Facebook, and other sources.
Adding testimonials from satisfied customers is a great way to boost conversions on your roofing services landing page. When making a major purchase decision, people often place more weight on the recommendations and reviews of those who have already made that choice.
4. Show Benefits and Incentives
Why should individuals choose to do business with you? What distinct advantages do they claim to have gained by working with your business as opposed to, say, the competition?
You may always say that you have a warranty, but what exactly does it cover, and how does it help the customer? Make it clear because some of the roofers who offer these warranties may no longer be in business 25 years from when your roof fails, rendering the warranty null and void.
Make the advantages of working with your organization plain to the homeowner, and consider offering incentives like discounts for referrals and returning clients.
5. Optimize Your Landing Page for Mobile Devices
Customers are increasingly turning to their mobile devices for product and service research, making providing a streamlined and intuitive mobile experience more important than ever.
You should leverage the capabilities of mobile devices to provide a better experience for your users. Add a "click to call" button so site users can easily contact your roofing business from their mobile devices.
You should create an intuitive site navigation structure to increase conversion rates further. Improve the user experience and entice visitors to take action with a well-thought-out layout and navigation system.
Visitors may become frustrated with a page that is difficult to navigate and leave as a result. Choose an uncluttered layout that highlights the most vital aspects of your roofing services.
6. Call-to-Action
Where do you want the user to go once they leave your page? Put it plainly. People appreciate being directed, so don't be afraid to give them orders.
While it's true that some people have an innate resistance to authority, everyone needs some kind of guidance occasionally. Like how we're grateful for clearly marked highway lanes, online readers enjoy instructions since they help them get exactly what they want.
Don't be shy about asserting your authority; homeowners rely on you to fix some of their most infuriating roofing problems. Remember that the rule of thumb for increasing adoption is to make sure that the reward is at least as large as the effort required to achieve it when designing your call-to-action forms.
Do not subject them to 15-minute questionnaires or compel them to provide irrelevant information that could make them leave the forms.
7. Use a Compelling Header
What do you look at first when you visit a website? However eye-catching the logo design is, it's more probable that the header is what drew you in. An engaging header conveys the page's primary objective and directs the reader's attention to the beginning of your offer.
From there, your roofing landing page can introduce the audience to the offer and benefits you intend to offer them. Try not to go overboard, and don't forget to add a phone number that stands out.
Prospects may want to call you right away after reading the heading, but what if there isn't a way for them to do so? We have an issue if I go to your website right now and can't find a phone number, especially if you're in the roofing business.
8. Eliminate Distractions
The enemy of all conversion efforts is distraction. If visitors to your roofing landing page are distracted by a long number of links instead of your offer, you've effectively destroyed the aim of your website.
Landing pages should not be excessively lengthy or complicated. Companies frequently make the error of pushing their products or services too hard.
There should be no more than two calls to action on a page, each of which should be made abundantly obvious by its context. Take a minute to put yourself in the shoes of the reader when you or your marketing team compose your roofing landing page.
Leveraging Google My Business to Increase Roofing Leads and Sales
Make sure your roofing landing page is straightforward and easy to use if you want to see high conversion rates. What services your roofing company provides should be highlighted, or a button inviting potential customers to contact you on the page.
If this information is lacking on your roofing website, potential customers will likely leave and look elsewhere for their needs. The success of your roofing advertising campaigns depends on the quality of the landing page you use.Now that you have landing pages that work, what else can you do to increase your online visibility? Using Google My Business, you may outrank the competition and get the first result in search engine results. Here's how to boost your roofing company's sales by using Google My Business.